Read the Okta Business @ Work 2020 report.
I love this report so much that I set an alarm for myself for the day it came out. Bravo to Okta for combing through their usage patterns and publishing the trends.
Ruling the Roost
Microsoft Office 365 remains top dog based on number of users. Salesforce, AWS and G Suite round out the top 4. Of the companies we follow: Slack is 6th, Zoom is 7th, Docusign is 11th.
In most active monthly users, Microsoft Office 365 again rules the roost by a mile. Workday, ServiceNow, and G Suite round out the top 4. Zscaler is 9th, above Slack, Atlassian Suite, Webex, and Zoom (who make their first appearance on this list).
Microsoft 365 is really THE name in SaaS services at this point, which is why Okta and Zscaler feature it so much in their marketing, and how important it is that Zscaler is the only preferred vendor to secure Office 365.
Zscaler marketing: https://www.zscaler.com/solutions/office-365-deployment
Okta marketing: https://www.okta.com/office365/
Zscaler is first security provider that is an Office 365 certified partner.
Up and Comers
I most like to look at the 'up and comers', so let's look deeper at the top 10 of the Fastest Growing Apps (in user access via Okta).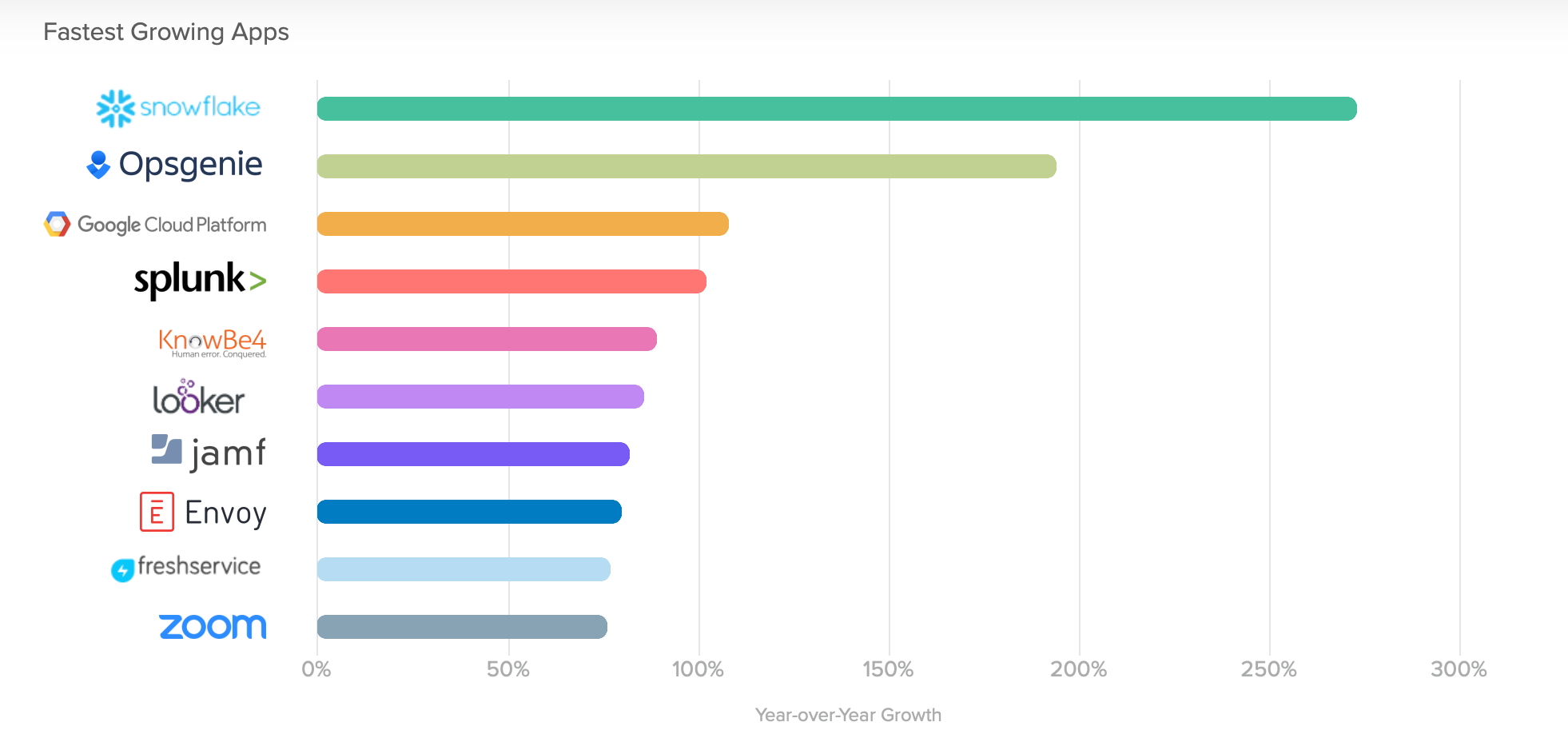 Snowflake +273% (private)
Data warehouse SaaS platform
... Seems to be having some MASSIVE user growth. Not public yet, rumored to be IPOing soon. I was already interested, just knowing the potential in their product space... and now am even MORE interested seeing them jump to #1 on their debut on this list. Seeing this level of user growth means there is a LOT of adoption across large enterprises into their data warehouse platform. Was just named a Leader in the Gartner Magic Quadrant for Data Management Solutions for Analytics.
Opsgenie +194% (TEAM)
Incident mgmt & alerting system
... Atlassian Suite (Jira, Confluence, Bitbucket) is 5th most popular app. However, this new product (acquired in 2018) is really doing some amazing user growth. This product is competing with PagerDuty, and integrates with 200+ apps.
Integrations:
Monitoring platforms like Datadog, Dynatrace, New Relic, Logstash (Elastic), Splunk, Prometheus, Looker, AWS Cloudwatch, and Azure ServiceHealth, in order to automate incident alerting.
Ticketing systems like Jira, Jira Service Desk, Salesforce, ServiceNow, and Zendesk, connected to bi-directionally; to monitor and act on new tickets in those platforms, as well as to create new tickets based on alerts/incidents.
Dev systems like Github, Jenkins, VMWare, and AWS EC2 & RDS, for automated deploying and infrastructure scaling.
Communication platforms like email, Slack, Teams, and Twilio, for alert notifications.
Google Cloud Platform +108% (GOOG)
... 3rd place in cloud providers means it grows more.
Splunk +102% (SPLK)
... This company seems to be having massive growth in SaaS users. Latest Q had 78% growth in cloud segment.
KnowBe4 +89% (private)
Employee cybersecurity training platform
... was #1 fastest in last year's report.
Looker +86% (GOOG acquired them July 2019)
360 degree Analytics & BI tool
Jamf +82% (private)
Manage and secure Apple devices across enterprise https://www.jamf.com/
Envoy +80% (private)
Front desk visitor & delivery mgmt https://envoy.com/
Freshservice +77% (private)
IT service desk platform
Zoom +76% (ZM)
Video conferencing
... Has been in Top 10 Fastest for 4 years in a row now.
Zoom is Zooming
Other tidbits across the report about Zoom...
"Zoom also earns the rare distinction of being a top app by number of customers, a top app by active unique users, and a fastest-growing app, all at once."
They consider Zoom a Best of Breed app, meaning it is increasingly being installed alongside Office 365 deployments, even though Microsoft has a competing product (Teams web conferencing). "Among Okta customers with Office 365, 32% also deploy Zoom and 31% also deploy Slack. (Zoom's gain of 24% in four years is especially noteworthy.)"
Zoom is by far #1 in "Most Popular Video Conferencing Apps". Amazing. "Zoom was the #1 fastest growing video conferencing app in 2016, and it hasn't slowed down since. Over the past three years, Zoom has enjoyed an astounding 876% growth in number of customers in our network. For comparison, second-place Cisco Webex grew 91% over that same period."
There is only more to come. "The video conferencing segment has room to grow before reaching maturity. IDC forecasts a 7.1% compound annual growth rate for global unified communications and collaboration solutions between 2019-2023,​ increasing the market size to $48.3 billion by 2023.​ Of course, network effects have a powerful impact on the adoption of video conferencing apps, so it will truly be an uphill battle to dislodge Zoom from its perch."
Other Tidbits
Most Popular Dev tools
Atlassian is #1 by far, PagerDuty is 3rd, New Relic 4th, Datadog 5th, Splunk is 7th.
"New Relic, a performance monitoring company with a go-to-market strategy focused on IT, is feeling the impact of Datadog, which sells to developers."
Most Popular Security Tools
New Relic is 4th, Palo Alto is 5th, Datadog is 8th, Splunk is 12th, Zscaler is 13th.
This section on security changes was a pretty interesting after writing up my Flavors of Security post recently. They boil it down to needing to secure People, Devices, Networks and Infrastructure.
Takeaways
Can't wait to see Snowflake IPO.
Zoom is at the top of my watch list, so was very interesting to see all the strong commentary around them, and to see them show up on the Top App charts. The competition is far behind.
As we already knew, Datadog (#3 player) is moving up on New Relic (#1 player) in monitoring. But good to see Okta's report reinforce it. New Relic is nearly flat-lining on "Most Popular Developer Tools" chart, so Datadog should surpass them this year.
Good to see Zscaler so high in the monthly active user list. It will only increase.
-muji