Hi there. I don't normally talk Apple much on the blog, but do follow their product announcements closely as a consumer and long-time former investor. Today was the first Apple Event of 2022, entitled "Peek Performance", which promised to heavily involve the M1 chip. Here is some brief commentary on their announcements, if you are a Mac fan.
After initially distracting us by kicking off with some AppleTV+ news (live sports and new originals), they then quickly got into the real reason for the event – new M1-driven hardware. In watching it, I notice I am quickly tiring of all the 'AMAZING' or 'EVEN MORE AMAZING' comments from Tim Cook et al, for what was essentially a lot of incremental improvements. iPhone 13 and Pro are coming out in green. WOW! Game changer that warranted a few minutes of air time! But luckily some interesting tidbits did emerge.
The incremental hardware updates
iPhone SE got an update, with the new A15 Bionic chip, and is going after the low end of smaller phones, clearly targeted (in the perf charts) to folks still holding on to their iPhone 6-8. And to continue to be annoying, it comes in Midnight (black), Starlight (white), and RED (probably the best red ever).
iPad Air got an update, and now has an M1 chip like the iPad Pro, greatly improving its performance for a much lower cost. It also now supports the Magic/Smart Keyboards and Apple Pencil gen 2. (Pro still has a better display, and FaceID.)
The big new Mac lineup
Last year's M1 announcements in Oct-21 introduced the M1 PRO and M1 MAX chips in the MacBook Pro line. It's difficult to go bigger in silicon, so they introduced a new M1 ULTRA that is basically two M1 MAXs put together as one (via what they called "UltraFusion"). Just like MK ULTRA was an explosion of colors and lights, M1 ULTRA is an explosion of power and performance for low energy. It has a 20-core CPU, with 16 high-performance + 4 high-efficiency cores, plus a 64-core GPU, plus a 32-core Neural Engine, plus a hardware-accelerated media engine for encode/decode. Compared to a 10-core PC desktop, it can give 90% more performance for 65% less power. If you are doing high-end video, graphics, or XR content, this is for you.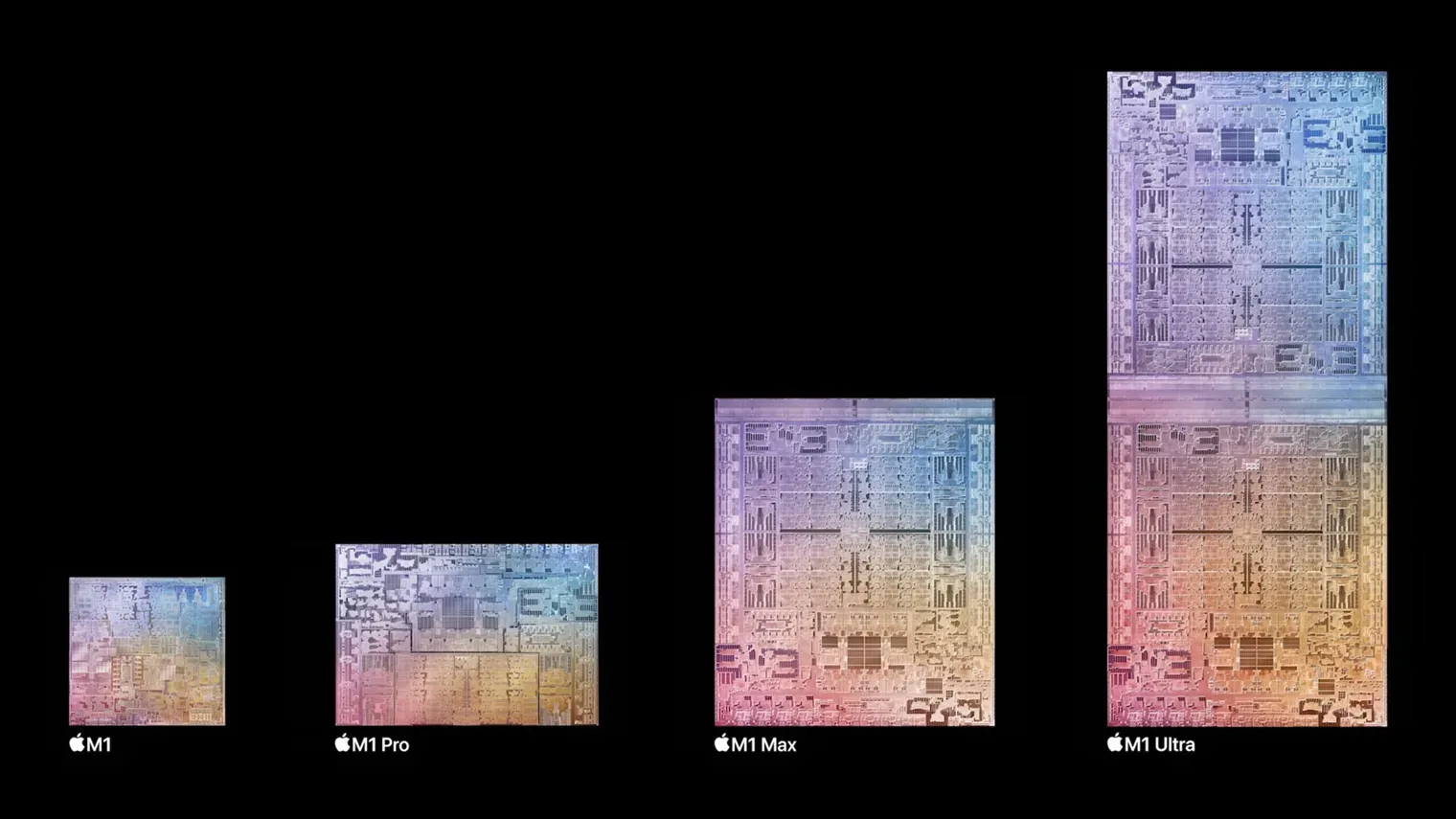 And with that, finally something interesting and new was announced... Mac Studio, which is like the Mac Mini and the (still Intel-based) Mac Pro had a baby. It looks like a triple-stacked Mac mini, pulling air thru the bottom via 2 fans and out thru the grate in the back. It is basically a souped-up of the existing Mac Mini M1 that now comes with an M1 Max or M1 Ultra. Contrary to Apple's moves of late in eliminating all ports in the various flavors of MacBook, the Studio keeps up the tradition of the Mac Mini to have LOTS of ports (4 UBC-C Thunderbolt4 display ports, 2 USB-A ports, HDMI, SD slot), as well as a very Mickey Mouse looking power port (from the embedded power supply).
With the M1 Max, it is 2.5x faster CPU and 3.4x faster GPU than an iMac, and is 50% faster than Mac Pro 16-core Intel. With the M1 Ultra, it is 3.8x faster CPU and 4.5x faster GPU than an iMac, and 90% faster than Mac Pro 16-core Intel, or 60% faster than the (top-of-the-line) 28-core Mac Pro. Geez. If you aren't stuck to Intel chips, this is a no-brainer as the top-of-the-line Mac (for the short term, as there were hints of refreshed Mac Pros coming this year).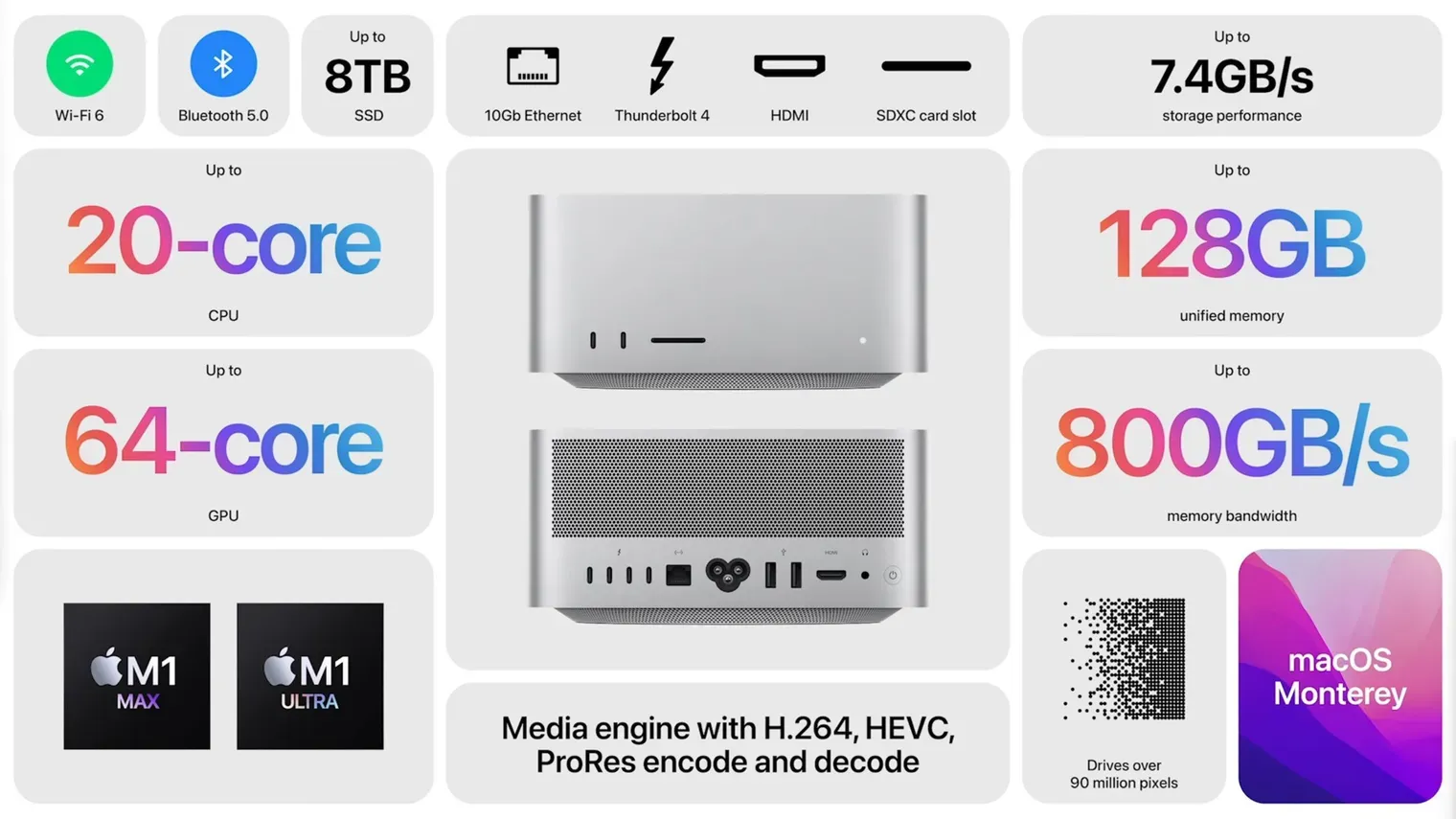 They also announced Studio Display, a new 27" 14.7M pixel 5K Retina monitor. The Mac Studio can run 4 of them. It can come with optional nano-texture (matte display for glare reduction), VESA mount, or an adaptable arm. Unlike the higher-end Pro Display XDR, it doesn't have a cheese grater on the back. It basically has an iPhone's 12Mp camera, and an A13 Bionic chip for handling camera/audio/mic features inline (such as Center Stage, spatial audio, and Hey Siri). So basically, it's like a really really big iPhone 11 as a 27" display.
Pricing for the Mac Studio Max is $1999, and Ultra is $3999. To compare, the Intel-based Mac Pro is $5999 base, +$2K for 16 core, or +$7K for 28 core. The Ultra is half the price of the 16-core (yet 90% faster), and a third of the price of the 28-core (yet 60% faster). Apple is really starting to leverage its silicon.
The Mac Studio Display is $1599. To compare, the Pro Display XDR is $4999,  +$1000 more for nanotexture, +$199 for the VESA adapter, and +$999 for the high-end stand. (I assume these same add-ons to Studio Display will be lower.)
So Studio is all-around much cheaper than the Mac Pros, with higher performance over the Intel-based line due to the M1 MAX & new M1 ULTRA. They hinted that there is more to come with Mac Pros (ending on "but that is for another day")... so we can clearly expect the M1 and Max/Ultra models to come to the Mac Pros this year, as the next-gen of their top-of-the-line.
For now, the new Mac Studio and Display will satisfy many of the high-end use cases for the Mac that center around content creation (audio, video, graphics, XR).
Add'l Reading
Instead of watching it all (with all the filler and hyped-up feel-good marketing), I recommend Verge's recap, where you can drill more into the deets.
- muji