Coupa Software is a global SaaS platform & ecosystem centered around Business Spend Management (BSM). The company helps large enterprises gain visibility into, and control over, the money and resources spent within their organizations. It was founded in 2006 from ex-Oracle employees who worked on procurement apps, and CEO joined in 2009 as a rookie (previously was SVP at SaaS provider Successfactors, later acq by SAP). It is based in Silicon Valley, with offices across Europe, Latin America, and AsiaPac. It went public Oct 2016.
1300+ current custs
5M+ suppliers
>$1.6T cumulative spend so far on the platform
FY20 had 48% YoY revenue growth
Gross Margin 73%
Let's take a stroll through what their platform provides, and the inter-connective ecosystem it has created between enterprise customers, suppliers, and partners.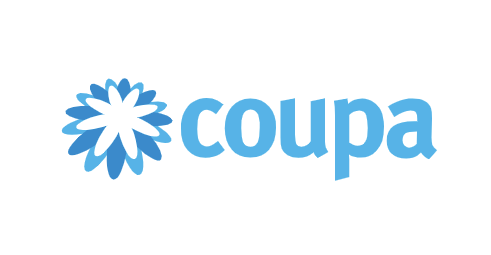 Coupa Overview
Coupa stands for...
Comprehensive
Open
User-centric
Prescriptive
Accelerated
https://www.coupa.com/blog/c-o-u-p-a-our-vision
Comprehensive:
core covering all aspects of spending (procurement, invoicing, expenses, payments)
then extends outward to power more-specific apps (sourcing, contract mgmt, supplier mgmt, analytics)
help every company ensure that they are as operationally efficient as can be
[so comprehensive, they like to bolt on additional features in order to expand features and new product lines...]
Open:
maintain openness, transparency, and authenticity across entire spend ecosystem
formulates entire Coupa Community across partners, suppliers, customers
User-Centric:
"the best UI is no UI"
have the tech do as much of the work as possible
users only get involved when it adds meaningful value to a given process
Prescriptive:
provide prescriptive advice and insights to customers
AI/ML to provide "Coupa Community Intelligence", analyzing anonymized transactions over entire customer base
Accelerated:
provide real, measurable value for all customers every year
fast, results-oriented, and highly agile approach
Platform Overview
Business Spend Management (BSM) Platform: https://www.coupa.com/platform/
"Everything You Need to Manage Your Spend in One Place"
comprehensive, cloud-based platform
connects 100s of orgs with 3M+ suppliers globally
greater viz and control over spend
built-in compliance
custs get real measurable value/savings
huge partner network of suppliers
"network effect" - suppliers want to come to where the buyers are; and buyers want to come to where suppliers are known, reviewed, and easily accessible
prescriptive intelligence features over all cumulative spend data via AI/ML ("Community Intelligence")
fraud detection via AI/ML ("Spend Guard")
pre-negotiated savings from trusted suppliers ("Coupa Advantage")
group sourcing - collaborative buying for bulk savings ("Source Together")
rich partner ecosystem of systems integrators, implementation partners, resellers and tech partners
Platform layers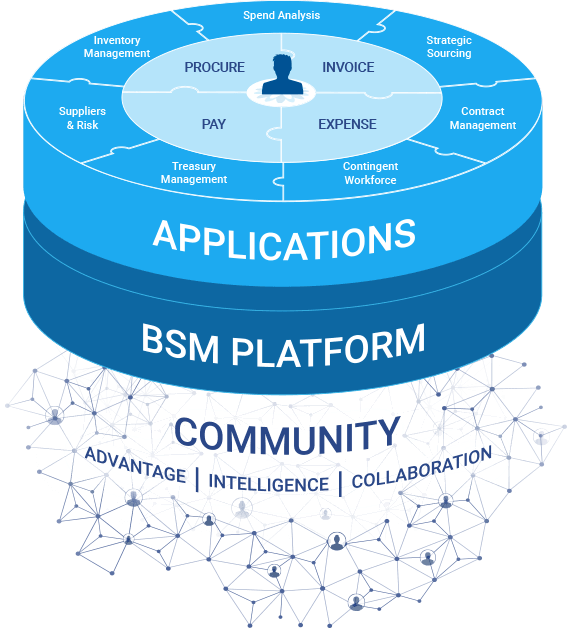 Platform core
e-procurement system
streamlines purchase requisition and PO process
manage spend policies & approval rules
e-commerce platform ("Open Buy") for supplier goods & services, via Amazon Business
auto-sends to supplier for fulfillment & invoicing
real-time budget mgmt
electronic invoicing & automation
manage supplier invoices via dashboards & work queues
prioritize early pay discounts
configurable approval workflow
assure compliance w/ govt regulations
eliminate paper & processing costs
reduce payment fraud risk
travel & expense mgmt
control & visibility over employee expenses
mobile app for empl expense tracking
GPS/geo-location capabilities for easy mgmt of travel expenses
assure compliance w/ govt regulations
import charges from CC providers
Pay: [newest addition, expanding core focuses to 4]
centralized hub for payments
automate invoice payments & reconciliations
global e-payment tracking
maximize rebates & discounts
streamline empl reimbursements
growing ecosystem of payment partners https://www.coupa.com/pay-partners/
Modules
Spend Analysis (procure):
built-in reports and dashboards for mgmt to see spend activity, workflow, bottlenecks, grouping of tx detail
classification AI
100+ reports
integrate external APIs for holistic view
Strategic Sourcing (invoice):
find best suppliers based on input constraints
complex sourcing of raw materials
collaboration for bid review, w/ feedback and scoring
Contract Mgmt (invoice+expense):
manage contracts for purchasing
enforce compliance and negotiated rates
real-time enforcement and spend visibility
alerts at expiration or renewal dates
Contingent Workforce (expense+pay):
manage & visibility over temp labor & outside services;
optimize labor spend
reduce compliance risk
source new talent & manage onboarding
Supplier Mgmt (procure+pay):
manage and pay suppliers
custom web forms for supplier entry for procurement and invoicing
real-time dashboard with complete visibility over suppliers
monitor & reduce supplier risk
access supplier reviews based on collective Community data, credit ratings & public data
source new suppliers & manage onboarding
Inventory Mgmt (procure): [no longer in the Product menu or the platform layer image, but webpage is still directly accessible]
manage inventory movement
predict shortages
manage goods and licenses
Ecosystem
supplier-buyer interaction platform w/ notifications
reduces paper trail & costs
improves operating efficiencies
can integrate w/ supplier 3rd party systems (Oracle, SAP, others)
no fees (free) for suppliers
community-powered group savings
bundle purchases for max discounting
manage group sourcing collaborators
leverages the collective buying power of customers
pre-negotiated savings from trusted suppliers
benchmarking and insights from Community Intelligence
ML/AI insights over collective BSM data in platform
supplier insights to reduce risk
operational insights
compare metrics against other customers
integrated partnership with Amazon Business
seamless shopping within Procurement search
competitive pricing from Amazon platfrom
Landscape
Competition
Oracle - procurement, expense mgmt
SAP/Ariba - procurement & supply chain
SAP/Concur - travel expense mgmt
Accolades
-muji
Originally published as a post on Saul's Investment Discussions board on The Motley Fool forums.