Immediately after guidance projected their woes into the next few quarters, Alteryx has finally given us a glimpse at its "big picture" and where it is taking its software going forward. Let's look deeper at its newly announced APA platform.
Step One (Smarter tools)
But first, lets step back to the recent acquisition of Feature Labs. They were an open-source friendly company spawned from MIT that was dedicated to automating "feature engineering". Feature engineering is basically using ML/AI to help improve ML/AI workflows. What that means is, they created an ML/AI-driven process (an open-source tool called Featuretools) to perform raw data prep and to pick proper algorithms to apply over that data. It boils down to making the analytical tool do all the work - the user can simply define the problem to solve, point it at the data, and the software can then potentially automate the entire data prep and analysis steps. It's using ML/AI to drive the user towards the best use of their data and the best ML/AI algorithms to utilize over it.
Think about it this way - it's using ML/AI to MAKE A BETTER TOOL that lets users do ML/AI. This sounds very very useful for Alteryx, with its heavy push towards "citizen data scientists" doing tasks instead of data scientists. This is all about ease of use and flattening the learning curve in doing complex analytics. So being an open-source focused company, Feature Labs was more of an acqui-hire ... and those new employees have now become Alteryx Innovation Labs.
CD&AO (Chief Data & Analytics Officer): "Automating the Feature Engineering task will not only speed up the process and increase success but will help the modern-day data worker upskill and become more capable at machine learning. Putting tools like this in the hands of the workforce will ultimately accelerate the digital transformation of the enterprise."
---
Step Two (Big Picture)
Then right after earnings, the new platform was announced. And then the new upskill program was announced, called Advancing Data and Analytics Potential Together (ADAPT). Their new focus is 3-pronged over Data, Process, and People.
From the PR on the new APA platform:
"The different steps in an analytics lifecycle are often siloed," said Chandana Gopal, research director at IDC. "Data preparation, data analysis, data science and the operationalization of data-driven processes are often done by different people or different groups. There is a need for a platform that brings all these different aspects of analytics together and provides AI-based automation where it has the most impact. An end-to-end analytics platform powered by AI will significantly improve an organization's ability to make timely and contextual decisions based on data and analytics at all levels."
New marketing around APA
APA Presentation notes (TMF post by FrankDip).
Alteryx is finally showing that they are thinking about the next-generation of their product line, and their new platform looks to be taking steps in several new directions. Their disparate products are now under a more cohesive platform, with a strong focus on team collaboration, ease-of-use (automation), and leveling up skills (training).
Platform Layers
Input layer = automating inputs from variety of sources (files, docs, data platforms, apps, cloud)
Data layer = quality & prep
transform
enrichment
insights
Data layer = analytics & decisions
predictive ML
AI
geo-spatial analytics
prescriptive analytics
code-free UI
Output layer = automating outputs to a variety of destinations (BI apps, stakeholders, apps, reports, notices)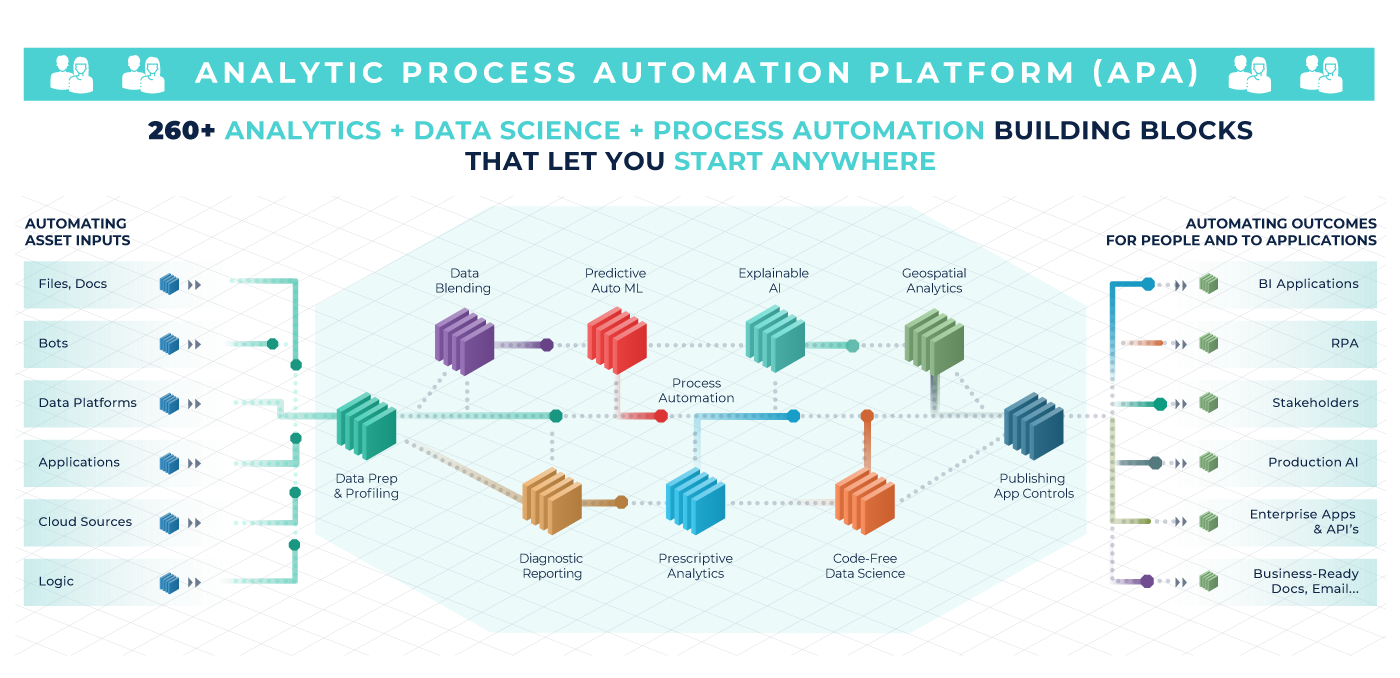 Notes
unifies Data Prep, Analytics & Data Science, and allows for Process Automation over them
hundreds of automation building blocks [from Alteryx Designer platform]
frees data workers from arduous tasks, to focus on delivering high-impact outcomes
process already used in 37% of Global 2000
260+ automation building blocks
focuses on improving skills of data users and automation of tasks
Focuses
From their marketing.
Automating Asset Inputs
80+ natively integrated data sources from Amazon to Oracle to Salesforce. Securely connect to an unlimited number of additional sources. If you can access the data, you can bring it into Alteryx and spend more time analyzing and less time searching.
Data Quality and Preparation
Explore and connect data from on-prem databases, the cloud, and big or small data sets and more. Easily cleanse, prepare, and blend data from a variety of different sources with or without unique identifiers to deliver unified data profiles.
Data Enrichment and Insights
Leverage the power of the cloud with in-database tools that turn big data into big insights. Go beyond standard demographic data with behavioral and retail purchasing information to create an in-depth view and truly understand consumers. Enrich your analysis with maps, address solutions, drivetime capabilities, and a deeper understanding of your customers and locations — because everything happens somewhere.
Data Science and Decisions
Upskill your team's analytic output with step-by-step guides and assisted modeling to build models without coding or analytics expertise. Gain insights and better answers by using data for complex analytical methods, from sentiment analysis on unstructured data to building complex R-based models with little-to-no coding skills. Activate the intelligence layer with advanced analytics, such as machine learning, to provide forward-looking insights.
Automating Outcomes
Empower others to customize any analysis and make decisions with analytic apps. Share in a variety of formats such as writing back to the database or a bot or leveraging spreadsheets or an easy-to-consume report. Build once and automate forever. Effectively communicate answers and share them with stakeholders so they can take action, visualize outputs, or even create lightweight dashboards in Alteryx. Amplify human output and enable the perpetual upskilling of people with intelligent decisioning to deliver faster, better outcomes.
This platform also ties into their newly announced ADAPT upskilling program. It is a new series of virtual data science classes, delivered via a partnership with Udacity learning platform.
Through the Advancing Data & Analytics Potential Together (ADAPT) program, new graduates and unemployed data workers are granted access to free data science and analytics learning courses, an Alteryx Designer license, a community of thousands of Alteryx users and 1:1 virtual support from Alteryx associates. Whether you are brand new to data or want to sharpen your knowledge of advanced, predictive analytics, the ADAPT program will equip you with the skills you need to enter a desirable field or make strides in your current career path.
3-part course:
Intro to ADAPT/Data
Data Fundamentals and Core Certification
Predictive Analytics for the Business Nano-degree
Takes about 120+ hrs to complete. Plus gives 6mo license to Alteryx Designer for your coursework, and access to community resources and support.
Thoughts
What matters here is that this shift (which is only in-name-only at the moment, aka is only a marketing change thus far) is preparing this company to shift their array of software products into a cohesive whole, with a heavy emphasis on ease-of-use, via automation of data flow & analytical models AS WELL AS integrating the educational training services to continually improve the user's skill sets. So I feel the huge parts of this platform boil down to:
Automation of data flow [this was already in place in Designer]
Automation of analytical process flow between model creation, evaluation & use [this is piecemeal across diff products]
Education on how to use these tools and processes [demystify the art of "data science"]
Continual improvement of analytical skill sets from there [upskilling]
These all potentially combine into a platform that can create a virtuous circle - more knowledgable users can do more, but the platform itself will constantly improve upon the automation & curation of the data workflows & analytical models. The better the users become at utilizing the platform, and the faster users get via automation, and the more successful outcomes that all results in, the more they use the platform and evangelize for it and spread its use within that enterprise.
Alteryx is making massive strides in helping "data workers" become "data analysts", and then now with those "data analysts" then becoming "data scientists". They are striving to flatten the learning curve to data science and modeling, accelerate productivity with automation, and best of all, automate creation of analytical models to involve less and less input (aka less effort & time) from the user. This platform's goal is making its users smarter and work faster.
So let's be clear, this new platform is about automating both the DATA PROCESS workflows (already great in Designer), but also the ANALYTICAL workflows. This was clarified more in this CFO interview:
CFO: "Part of what you're going to see from us under this new defined category of APA is significant innovation over the next 12 to 18 months. More so than you've probably seen from us previously at all. And that innovation is going to come from a couple different directions. You kind of touched on it with AI, ML, just call it advanced data science. You're going to see quite a bit of innovation coming out of the Feature Labs acquisition that will be part and parcel of the APA platform.

We also are going to continue heavy innovation around ease of use. That is a big pillar of our development efforts. Our goal is not just to make the platform more sophisticated, but to make it just drop-dead easy for data workers who may not have as much comfort and experience working with data... And then how do you take data analysts and move them up the curve to behave like data scientists? And so you're just going to see us continue to press on sophistication of the platform along with ease of use."
So he's promising a huge investment into fleshing out this platform over next 12-18mo, and tying together the data & analytical workflows, and putting process automation over both sides of it. One big new shift is his news about moving towards a browser-based web app version of Designer. That is huge, as Designer is a Windows-only app right now, so it would open up Designer use to be on any computer or device.
I mentioned before that Feature Labs' focus is AI-driven model creation. So while the users are getting smarter and faster, the PLATFORM (the tool itself) can be too, by better helping users identify the right model technique to apply, and then how to best evaluate and utilize that model going forward. Pretty exciting stuff and good to see this presented so clearly by Alteryx. Too bad it is occurring smack dab in the middle of them having some sales issues during this pandemic. But long-term, this is a good move by the company and they will assuredly continue to execute well as they move towards this new vision.
---
Step Three (New Directions)
Now, go read the SSI blog's take on this quarter, in particular the opening section "Dissecting Alteryx Product Architecture". He spotted a few CFO interviews with a lot of additional clues, plus spotted several new job listings that pointed to what is coming in Alteryx's new platform.
CFO interview with CML
CFO interview with TheStreet
CFO: "At some point, I imagine, for some class of customer, we'll introduce a cloud version. Frankly, in doing so, the concept of Designer and Server may end up blending together. Because we would essentially offer much of what Server offers through that service. But really, the focus is on, how do we help our largest clients massively deploy Designers through a browser rather than a thick client install."
So Alteryx is starting to think outside of their normal environment (Windows-specific software), and beginning to embrace the potential in the cloud, likely as a new SaaS service to control and manage processes under this APA platform. These moves to automate and upskill and now leverage the cloud all combine to greatly increase the potential market for their solutions (anyone can do it) while easily shows its value (no longer need to employ expensive data scientists).
Then they showed their first cards under this new APA platform, with Analytics Hub as a new centralized core and collaboration tool for their new platform, and Intelligence Suite, an add-on to Designer and the new Hub, starting to automate the data prep and analytical processes.
Alteryx Analytics Hub
new centralized collaboration platform
automate, share workflows, communal discovery, security & governance
[...possibly the new core of their next-gen APA platform]
Windows-based server software; client is web browser
Alteryx Intelligence Suite
new add-on for data discovery in Alteryx Designer & the new Analytics Hub
new "Assisted Modeling" automation capabilities, with focus on user training
[... at least partially arose out of Feature Labs acq]
augmented ML - no-code UI to select best analytical model & perform complex statistics, guide data transformations, and compare and manage models (track decisions, validation, & re-trainings)
text mining - no-code UI with natural language processing features, to work with un/semi-structured text data (identify categories, discover topics, detect underlying sediment)
Alteryx Multithreaded Processing (AMP) Engine
greatly improves speed and capabilities in working with larger datasets and more complex processes
---
Takeaways
So... we have a company now very clear about the future of its product line and where the next-generation of it will lead. It's now focused on:
collaboration and management of data analytical processes
ease-of-use through the automation of data prep and analytical workflows (using ML/AI to do ML/AI!)
training users to improve their skill sets around ML/AI processes
And now beyond that, we have several hints as to what is coming next (esp in their job listings):
new job listings are a huge sign that they are moving away from just having Windows-based applications (Node.js for microservices, Javascript for browser apps, AWS cloud skills)
hints they are looking at a lighter-weight browser-based Designer client
... which means the compute workload will be done server-side, which points to cloud-based product (as a SaaS service, or perhaps still self-managed like Alteryx Server is)
They are tying together their product line into a cohesive whole that clearly shows its value (less-expensive employees can be doing analytical work). Even in a challenging environment, Alteryx continues to focus on lowering the complexity of doing ML/AI, by adding more automation and more training. To me, this all equals more value to its customers, and considerably more TAM, as the number of users greatly expands. I am retaining a good-sized position in AYX in anticipation of this company resuming its formerly superb execution as enterprise spending resumes, right as it enters this next phase of its product line around a centralized collaborative and automated platform.
-muji