Okta is in a pretty unique position – as a major single sign-on (SSO) gateway to enterprise SaaS providers, they have a great vantage point to see the underlying trends across the entire cloud. Thankfully (for us tech-savvy investors), every January they provide us a glimpse into the trends they've seen over the prior year. I have previously covered this report last year, and their special one-off report in May after the pandemic struck and "changed everything".
Today, Okta released its Businesses at Work report for 2021, covering all of 2020. Let's look at what the numbers are telling us!
As a reminder, these reports are driven by the number of ENTERPRISE USERS accessing the service. What tends to shine most in these reports are the services used across a wide base of users within an enterprise, like Microsoft Office 365, Slack and Zoom. Services like Crowdstrike and Datadog typically don't appear, as their usage is driven by "installed agents", with only a limited number of administrative users (IT and DevOps) accessing the SaaS platform. [However, some surprises on this front that Crowdstrike and Datadog investors should be aware of. Read on!]
Ruling the Roost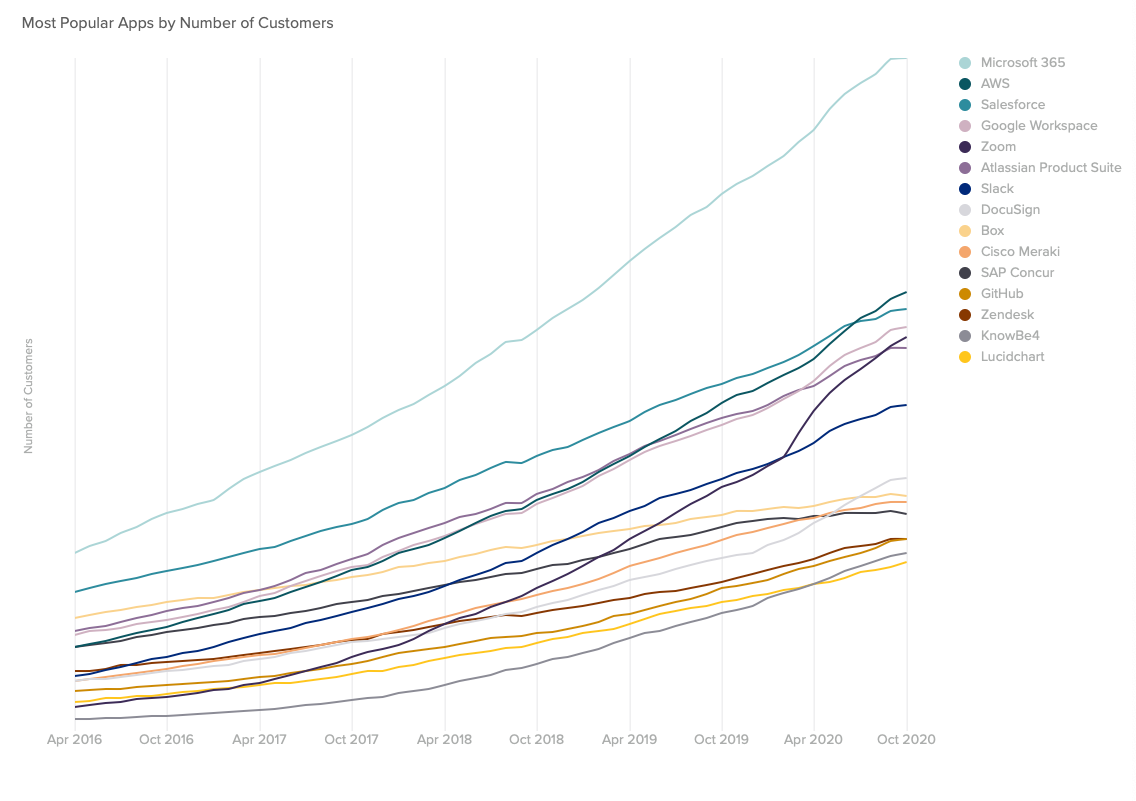 There are no surprises in the Most Popular Apps list. It remains dominated by the ubiqutous enterprise services & cloud infrastructure that drive today's work force: Microsoft Office 365 (and Teams), Salesforce, Google Workspace, Zoom, Atlassian, Slack, DocuSign, Box, and Zendesk.
The top 4 remain unchanged from last year; Microsoft 365 continues to widen its usage gap as the clear leader, likely boosted by Teams usage ramping up heavily during this work-from-home era. One change was AWS moving up a spot to 2nd, displacing Salesforce, in particular due to heavier use in EMEA and APAC regions.  
Two enterprise SaaS services show us they got a larger tailwind from work-from-home than the others. Zoom, who makes an appearance every year in this report, moved up from 7th to 5th, displacing Atlassian and Slack.  Docusign moved from 11th to 8th, displacing Concur and Cisco. (I'm surprised Concur, a travel planning & expense tracking app, still makes this list. )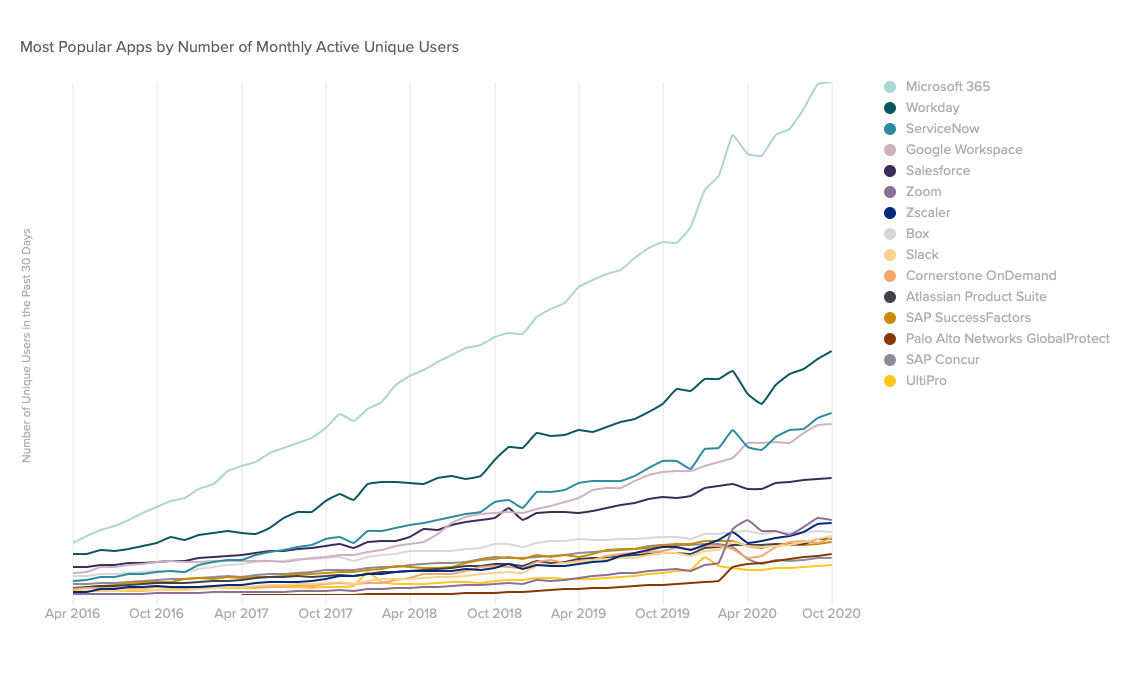 When looking at monthly active users instead of total usage, you shift the DevOps and infrastructure apps out, and Workday and Service Now then show up in the top 4.  Zoom jumped from 14th to 6th now, and Zscaler went from 9th to 7th.
Up and Comers
While there were no surprises in the Most Popular Apps, the Fastest Growing showed massive change. 2019 was dominated by Snowflake, Atlassian OpsGenie, and Splunk, and Zoom continued to still make this list (as it has the past several years).  Even back in the May report, we saw a huge one month rise in Zoom and a wide array of work-from-home security services.
2020 brings us an all new look at what platforms are driving the heaviest usage now.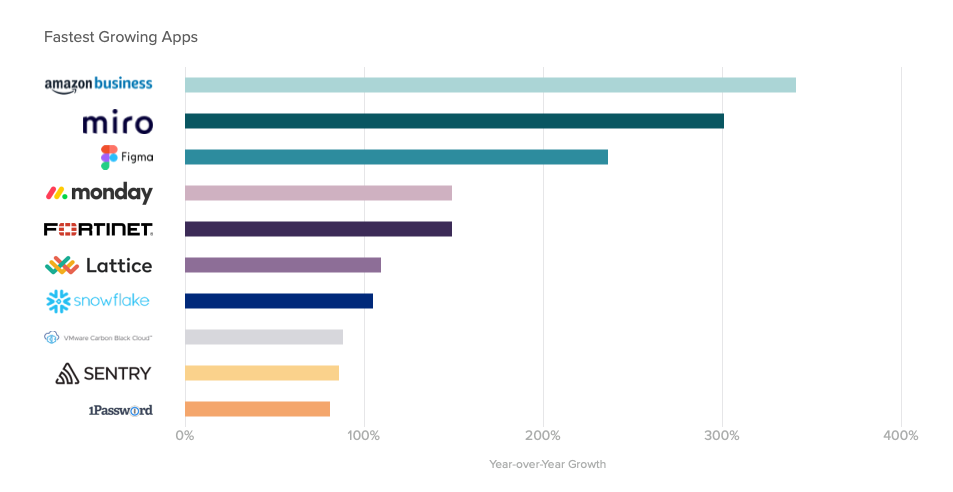 First thing I notice is that Zoom finally fell off this list, dropping from 10th to 15th. Of course, it's multi-year appearance on this list ultimately had to end. Zoom is "moving up the charts" on the Most Popular Apps as just mentioned above, as it continues to grow faster than the other top services --  but it is no longer "the fastest growing". (I thought it might still be on this list considering it had 110% growth in one month in the May report.) As a testiment to how dominate it remains, in the EMEA region alone, Zoom is still the fasting growing app, with an stellar 227% growth in unique users.
The Fasting Growing list is now dominated by remote work services that gained a huge boost due to the pandemic.  
As offices stopped being the centralized location for the workforce, Amazon Business got a huge boost with how companies purchase supplies for remote workers. It is the first time an e-commerce tool has appeared in this report.
Miro, Figma, Monday, and Lattice are all some form of team collaboration or process tracking software. These are all private companies at the moment. [I note that Asana and Smartsheets are not present.]
Fortinet is getting a benefit from work-from-home with its secure remote access service. [Surprised the remote access platforms we saw dominate the May report, like Palo Alto, Cisco, and Citrix, aren't in this list.]
Carbon Black endpoint protection (EPP) shows up on this list, which is very surprising. As I mentioned before, I don't expect EPP platforms to show on this list – while it has a huge number of agents installed, the users logging in to the platform are typically just the IT admins. Carbon Black is a Crowdstrike competitor, which we know grew tremendously over the past year (continued mid 80%s revenue growth, and accellerating). This appearance makes me wonder if Carbon Black makes the end users log into their platform as well as IT admins. If not, Carbon Black is making a huge comeback with 88% usage growth from just administrative usage!
Sentry is an application performance monitoring (APM) platform like those provided by Datadog, New Relic and Dynatrace, used by developers to track issues in deployed apps. This again is a surprise to me – DevOp-focused tools don't normally show up in this report (beyond those heavily used by the entire  team, not just developers, such as Atlassian). Its appearance makes this a company to watch.
Snowflake still appears on this list, now in 7th with 105% growth. Quite a bit lower than the 1st place and 273% growth from last year's report, but still clearly a company with some huge usage momentum. Ultimately, I expect it to drop from this list next year, as the majority of business users are going to be accessing the data via other client tools (like Tableau or Power BI), not directly logging onto the platform. Still, it's amazing to see a developer and analyst focused tool appearing in this list!
Used with Office 365
This is an interesting chart to see how users of the most dominate enterprise SaaS tool, Microsoft Office 365, use other SaaS tools.

Zoom again stands out, having seen massive growth over the past several years. Not every Office user is satisfied by the "free" Teams, and, anecdotally, I find Zoom remains an overall more consistent experience when video conferencing. Compare that to Slack, which hit a wall this past year, likely as Teams was more heavily leaned on for group chat during the pandemic. Box stands out as moving the wrong way, likely due to Microsoft Office making improvements in OneDrive. (It's certainly not Sharepoint that is displacing these other solutions. It remains the horrible team collaboration software it has always been.)
It's always great to get a glimpse as to what actual enterprise usage looks like. Thanks again, Okta!  
- muji