Hello all.  You may have noticed it's been 3 months since my last blog post. There is a reason for that -- I have been holding back on posting while some big plans have been in motion. As I hinted on Twitter recently, changes have been afoot at the HHHYPERGROWTH HQ. I have spent the last few months extracting myself out of my beloved "last job ever," after working as a lead data architect for a national energy science lab for the past 7 years. While it was awesome and worthwhile, it was time for a change.
I am now dedicating myself towards turning HHHYPERGROWTH into an  investment research service. That's right - I'm going premium.
---
A brief history
It's been a fun 10 months since starting the blog and the Twitter persona in July 2020, but I've been writing on the investing in and the technologies behind SaaS platforms for 3 years now. I've been semi-anonymous under the nom de plume of muji here at the blog and on Twitter (my nickname from way before I heard about the Japanese retail chain -- or as I like to say, "the brand-less store that stole my brand").  Known in the real-world as Matthew Eash, I've been a lead software developer, technologist, & investor for more than 20 years. For the past 3 years, in particular, I've been closely following the high growth SaaS names in enterprise services, including Okta, CrowdStrike, Zscaler, Cloudflare, Datadog, Alteryx, Snowflake, Fastly, Twilio, MongoDB, Elastic, and many, many others across cybersecurity, data & analytics, edge networks, and dev tooling industries.
I like to delve deep into the underlying technologies and architectures of the platforms and ecosystems these companies are building. My mission with these efforts is to educate myself on:
What are these SaaS companies are building? (platform capabilities)
How they are executing? (overlaying the financial picture over my understanding)
Where they are taking it next? (technological enhancements and pivots)
And, then, of course, I enjoy sharing that knowledge with other investors -- which in turn helps me gain even more understanding, as I must better organize my thoughts and weave a narrative over it all. Let's call this muji's flywheel of knowledge.  And it so happens that I thoroughly enjoy both my research (thanks to my engineering background) and, more importantly, writing a narrative over what I find.
Thus far, my time to devote to this effort was extremely limited, being only an after-hours hobby after family and work eat up most of my day.  It's finally the time to rearrange my efforts, and devote more fully to my investment research. That brings us to the new Premium service.
HHHYPERGROWTH Premium
HHHYPERGROWTH is a hypergrowth investing-focused newsletter covering the technologies behind the fastest growing platforms on the public market. Premium members will receive:
A new post a week, published every Thursday at 1pm Eastern.
A followup group session to recap the insights and have Q&A from premium members, after deep dive posts.  This will occur the following Tuesday at 1pm Eastern, after members have had a few days to digest the piece.
Ultimately, Premium means having a more real-time feed into my views on platforms, product lines, acquisitions, architectural shifts, and any insights gleaned from earnings and press releases. If you have been reading the blog for a while - you know the exact types of content you'll be seeing in the Premium service. Posts will include:
Deep dives into specific industry trends and markets, and how hypergrowth companies fit within it, like these extensive pieces on cybersecurity's shift into Zero Trust, and the foundations of edge networks.
Deep dives into specific platforms, like these extensive pieces walking through the platforms being built by Cloudflare, Snowflake, Okta, Elastic, and Datadog.
Shorter posts recapping product & platform moves in the companies I closely follow, like these pieces recapping product announcements, looking at current SaaS trends, or Alteryx's platform shift. And beyond just the good news, it can include critical looks at companies, such as Alteryx's simultaneous shift in mgmt and platform architecture.
Ongoing updates on what I feel are the good and bad trends within the investment thesis within hypergrowth companies such as Cloudflare, Snowflake, CrowdStrike, Okta, Zscaler, and more.
As a Premium member, you'll get access to a post a week, published every Thursday at 1pm ET. No guarantees on what topics or companies are followed at any given time -- but you can be sure it will be about exciting names in enterprise SaaS that are executing at hypergrowth!  And beyond the weekly posts, deep-dive posts will have a followup group session for Premium members, in order to recap the takeaways and have a Q&A sessions with members. This will occur Tuesday at 1pm, to give members a few days to digest.
Something else you will see more of are hand-drawn visualizations to more easily explain complicated concepts. Here is a sneak peek into one in the works (with text removed):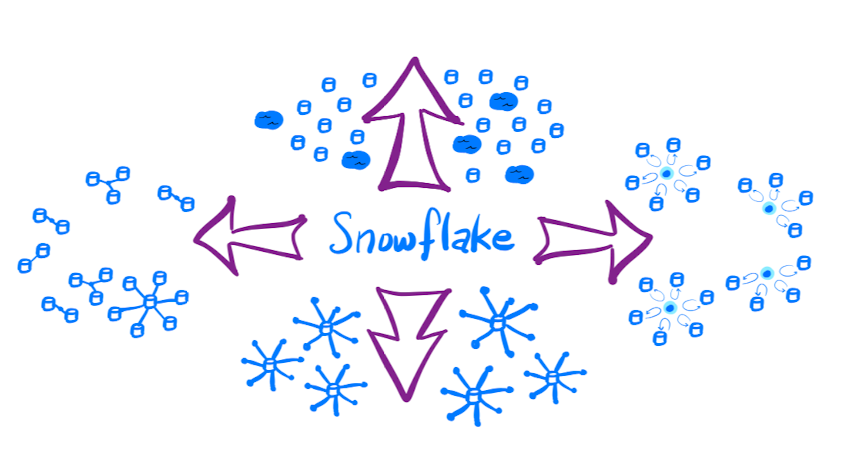 Come join me on this adventure!  But if you don't, you won't entirely miss out on the insights from HHHYPERGROWTH if you remain a Free subscriber.  Every month, there will still be a free post that is culled from one of the Premium articles of the prior month.  (This is a faster rate than I've been posting free content currently, so this shift is a win-win for both Premium and Free members!)
Who are you?
This service is geared for the saavy investor interested in hypergrowth investing, and wants to more closely follow the trends fueling next-gen industries like cybersecurity (Zero Trust & SASE Networks), edge networks, data cloud, AI & analytics, and developer tooling. Retail investors & institutional firms are all welcome!
To be especially clear, this service will NOT be providing investment advice (like stock recommendations or entry points). Instead, think of HHHYPERGROWTH Premium as your go-to expert network on hypergrowth SaaS companies in next-gen industries – companies that you either own or are interested in (or should be!).
As I will discuss in the next Free post in May, I believe you need a high level of experience to invest in the high-volatility nature of hypergrowth investing. I do not feel this service is for beginner investors. If you need advisement or need to learn how to develop your own conviction, there are many great services focused on investing in hypergrowth - The Motley Fool (Rule Breakers, Cloud Disruptors, Extreme Opportunities, & 10X in particular), Beth Kindig's I/O Fund, Ophir Gottlieb's CML Pro, InvestingCity, 7Investing, or SeekingAlpha hypergrowth-oriented services like From Growth to Value, or App Economy Insights. I believe HHHYPERGROWTH Premium will pair nicely with any and all of those.
But how much?
The premium service is $60 a month, $500 a year.
This is a premium service providing critical insights into hypergrowth stocks within next-gen industries, and is priced accordingly. While I have been giving high-priced expert calls to big investment firms (which have been way more fun than expected), I created this Premium service to have a larger scale, to instead provide these insights to a group of members instead of individuals.
The first post comes out this Thursday at 1pm, which dives into an next-gen hypergrowth industry that I have been covering extensively, whose ecosystem   touches upon many of the companies I follow. From there, these planned Premium posts will be coming over the next few months:
Where CrowdStrike is going with its latest moves
Snowflake can scale upon scale upon scale
Okta + Auth0
What is Cloud Workload security?
The 3 areas of Cloudflare's blooming scale
Snowflake vs Databricks
A look at UIPath
Where Datadog is going with its latest moves
Fastly's glacial pace
A look at rise of AI platforms (Palantir and C3)
All that, plus continuing coverage and updates on the underlying technologies and investing thesis in the companies that currently interest me the most: Snowflake, Cloudflare, Zscaler, Datadog, CrowdStrike, Twilio, Zoom, Okta, Alteryx, and Fastly.  Some private companies that are due to go public will also be explored, such as Databricks, Stripe, Confluent, DataStax, SentinelOne, HashiCorp, and many many more. (There will be no lack of content - there are always interesting high-growth companies to talk about!)
So are you a saavy investor interested in hypergrowth SaaS companies?  Have my prior pieces helped in your due diligence? Do you want a regular feed of insights and updates on these companies and industries?
If so, subscribe today!  First post is coming this week!  
-muji